7-8 Jun 12
In preparation
Willy from EEBU has confirmed that we have 11 people turning up on the 1st July for 14 days - yikes! Actually, we're very excited by it if a little concerned about the logistics.
We have very little on site in the way of facilities, or even water. Our 2,000ltr water tank is almost full, but the water is unfiltered and certainly not drinkable. It will be ok for washing in though. So all our drinking water will have to be brought in, plus food, cooking facilities, the list goes on. So, as you can imagine my head is full of planning for 13 people to live onsite for 2 weeks at the mo. As well as planning for all the work we'll be doing.
The photo shows the start of the shower/bath area. The half bath came out of the old bathroom in our current house, and true to most of our stuff it's had other lives - one incarnation was a duck pond - before returning to it's original purpose. We're not sure whether to rig up a bucket shower or simply plonk ourselves in the bath with a bucket of water and a bar of soap a la African style. There will of course be a screen for privacy, we're leaning towards the latter option at the mo - what d'you think?
Rebar in place
At last we've done the rebar to hold the bond beam onto the tyres of the round room - not that it seems to be going anywhere, but rules is rules. They still need flattening down onto the wood but can we find the metal bar we used to do this on the main hut?
Papercrete tests
Now to one of my favourite jobs - playing with mud and papiermache. I remember as a child playing in the clay bogs on Swansea beach - such pleasure as the clay squelched through my toes! Ahem, anyway, back to now. Ah yes, papercrete. I made up more of the 1:1 mix of paper to mud, but this time to increase stickiness, added a few dessertspoons of yesso (plaster) to the mix. It slops on a treat but the paper is better soaked for a while and the mix shouldn't be too wet - the bit on the left was perfect. We've covered it with t-shirts to protect it from the sun while it's drying and will see next week how well it's worked.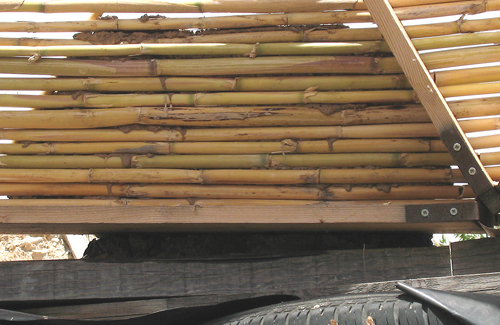 A view from the inside
Windows on the world
While I was playing with mud Dave was working out how to construct the very deep triangular window frames that we need for the dome. We've made the decision on how many and where we're going to put them, still working out the best way to do it. Watch this space...
Wombles of Cuevas de Sol
Last but not least, we did a rough count of how many bottles, cans and paper we need to make the interior walls and to cover the dome - conclusion - LOADS!
We've emailed local friends and Pat from the Garden Club has very kindly offered to put a call out to all the members for their rubbish. I always did love watching the Wombles as a kid and now I seem to have become one. So if I'm Madame Cholet which one is Dave?!!