20-21 June 2013
Back to 2 days this week, but we still got a lot done.
On the way we collected the 3 sheets of glass for the skylights on the main roof and 3 sheets of triangular glass for the dome. I normally drive fairly slowly as I like to enjoy the scenery as I go, but this week I went even slower and even then on a couple of corners we had a bit of a scare when the glass slid across the boot - yikes. But, eventually, we arrived and surprisingly the glass survived.
So Dave's first job was to do the final prep on the skylights to take the 2 sheets of laminated glass we're using. I'd already linseed oiled one last week and did the other this week, then Dave sealed them with acrylic gunk, stuck on the rubber seals and then it was up to the roof to place the glass. We're doing our own version of double glazing using a really hard wearing rubber sealer and acrylic gunk.
We're trying out opaque glass for one of the sheets to see what it does to the light inside. It's more expensive so we've put it on the bottom, with the clear laminate on top as protection.
We ran out of the rubber sealer so had to use wood batons to hold everything in place until we can finish them next week. We also need to order the final sheet of opaque laminate now we've decided to go with it.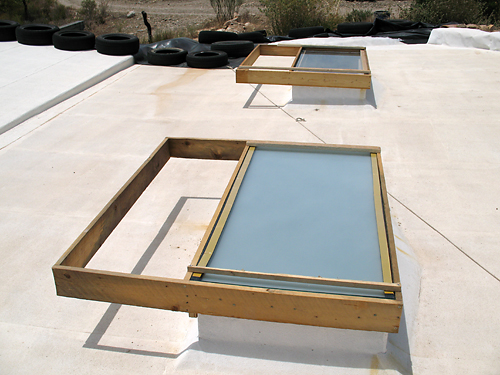 Opaque laminate in the foreground above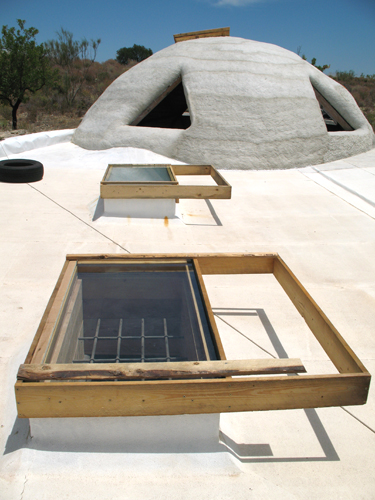 One sheet of clear laminate above to test the difference
Although we really like seeing the blue sky out of the skylight, for practicality the opaque is better as it gets rid of sun spots and diffuses the light to give a lovely soft glow. The difference between the light levels is almost imperceptible.


View from below
Dave's next job was to work out how to install the triangular window glass. We're using the rubber seal method of double glazing on this as well - hope it works!
No photos as when he put one sheet in you couldn't see that he'd done anything, which is how it should be, but not very good photographically.
Can and bottle brick walls
I've nearly finished the entrance side walls and did a couple of extra rows to the kitchen sink unit wall.
Then I built up more rows on the bathroom wall, adding in a couple of anis bottles that I've been wanting to use for something for ages.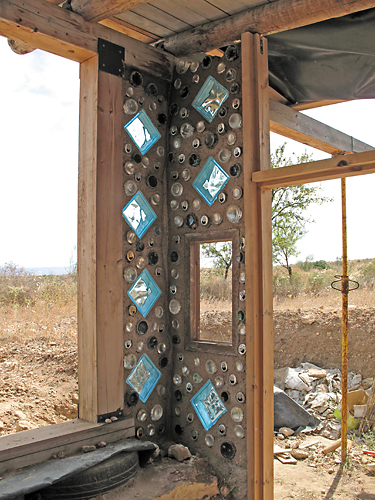 Front entrance walls almost finished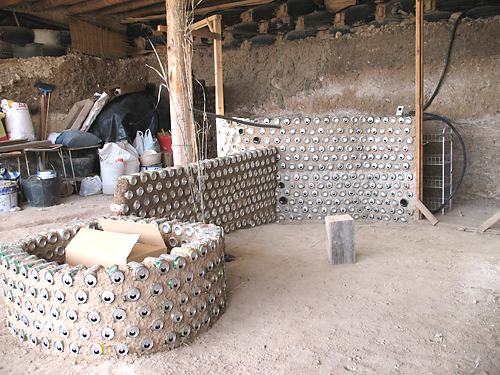 Kitchen sink unit walls built up more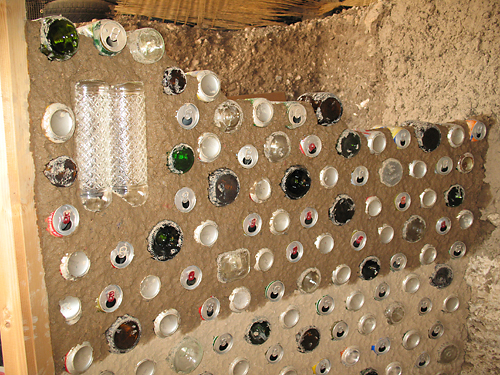 Decorative anis bottles make a sparkly window
Actually, doing the anis bottles has given me an idea for the area above the doors in the front entrance. Watch this space...