July 2013
July is upon us with it's long, hot, gloriously sunny days. Which is perfect if you're holidaying here in Spain, but makes building work a tad sticky.
One of our main aims this summer is to build the 10,000 ltr water tank so when the rains come in September we can be storing as much as possible. Talking of the September rains reminds me of last year's floods, which brings me onto the other big (and hot) job of building the protection wall. We had thought about asking for volunteers to come and help us thump the tyres for both these jobs, but it's so hot that we're only working on them early in the morning and later in the evening. With around 60 tyres to thump for the wall at 6 tyres a day, that means we may just about get it finished for September!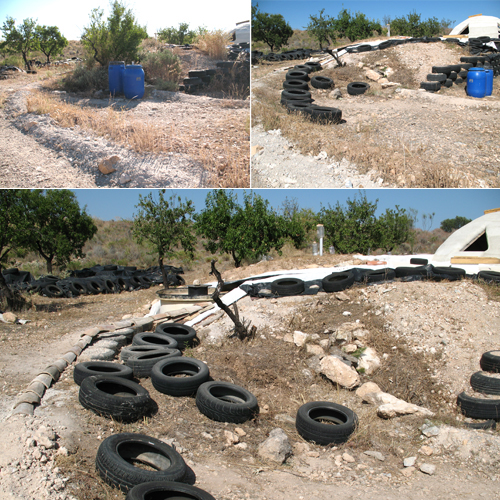 The area for the tank cleared

and the first 6 tyres of the wall thumped
Firebreak
We also remember the bush fires of last year so spent a day clearing all the dried out vegetation from around the 'ship. Looks a bit bare now, but it'll grow back in the autumn.
Below: The window frames with rejas glued and screwed in place.
We've decided to add an extra column into the front face to give it more strength. This also cuts the huge central pane of glass we would've had to order in half making it much easier to transport and instal.
The utility room and bathroom walls are now finished up to the glass bricks. This is as far as I'm going with them for now.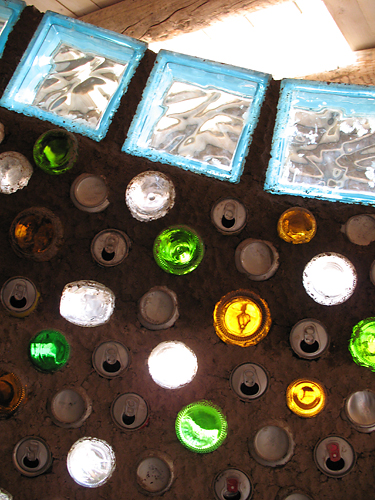 I love the way the light shines through the bottle bricks
And lastly, Dave has nearly finished digging out the planter.